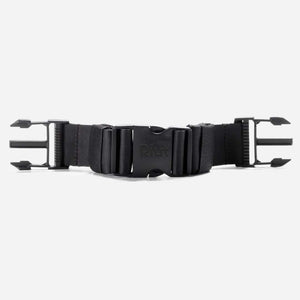 Recommended for: travellers carrying heavy loads; commuters with shoulder pain who prefer to transfer backpack weight to their hips; cyclists and joggers who require minimal backpack movement. 

Compatible with RiutBag R10.3, R15.3, R15.4, X25 and X35.
Make your backpack more comfortable, take the weight off your shoulders and feel more secure. Use the attachable waist strap on the RiutBag backpack. The modular design lets you attach and remove it whenever you need. 
This waist strap is not compatible with the RiutBag R15.2, RiutBag Crush or R25 or pre-2017 RiutBag models.
This backpack waist strap designed to help you carry the weight of your belongings on your hips whilst caring for your back and shoulders. It is bought separately and can be attached or removed from the RiutBag when required. When added to the laptop RiutBag, the maximum waist measurement is 127cm or 50 inches. As on all RiutBag designs, if you have excess strap materials they can be rolled up and secured with elastic for a smart finish.
This is a vegan product.